You may remember
Treanets
. That was half the story of magic tree people, dryads are the other half.
Yes, dryads
are
the "free flowing avatar of the id of a tree and forever tied to their groves." And yes, they are whimsy fucks.
But they also hold something within their coils that the treants rebel against, a true and abiding love for their home. Treants are born of agony and hardship, they survive a cataclysm and find it within themselves to (literally) uproot themselves and leave the place of their birth to make the best of their circumstances. They have cracks and scars in their bark, sun seared leaves and bundles of hard roots, but they wear their history and triumphs in their bark proudly.
Conversely dryads only ascend to consciousness when their grove reaches some level of abstract beauty in the eye of a passerby. Perhaps a maiden pure of heart and of taste wanders into a glade in the fever of spring to find
just
the right amount of flowers, lush grass, and shady sweetly blooming trees. She sighs and traipses on, and in her wake a dryad is born of the collective narcissism of the grove.
If treants are bonsia, dryads are
English landscape gardening
.
Once a dryad is born they immediately begin to manicure and cultivate their grove to reach even greater heights of beauty. They will obsessivly turn over every rock until they find its perfect face and orient it just so to go with the lilly line pool. They will prune their trees of dead wood so that the breeze can whisper through their crowns more sweetly. They will train squirrels and other woodland creatures to do cute things like frolic and sing.
Every time a sentient being passes through their grove the nymph will take careful notes on how they respond to their grooming. If the passerby seems unimpressed the nymph will confront them and interrogate them as to why they are not captivated by the (psuedo)natural beauty that the nymph strives for. In this way the nymph's concept of beauty grows and adapts to their audience, though the firmest stamp on their aesthetic remains the first observer's impression of the grove.
In this way dryad groves will reflect the society of their neighbors and the drifting standards of beauty, A grove in orcish lands will look very different from a grove in gnomish lands. A dryad born of the whimsy of a child playing make believe in a forest is very different from the bleak observation of beauty on a winters morning by a starving man.
The elves understand some of the mechanics of the dryad-aesthetic relationship and send their most tasteful landscape artists to hike around their lands and appreciate beauty in hopes that dryads are born with their tastes imprinted upon them, thus creating a dreamlike landscape of diligent dryads cultivating elvish ideals of beauty.
A dryad grove in elvish lands
Source

Dryad Encounters:
When traveling players may encounter an area of astounding beauty, the dryads grove.
Its center piece is:
1: A majestic and ancient tree
2: A quiet pool in a cool running stream
3: An open glade
4: A rock outcropping on a hill
5: A dell nearly hidden by shady trees
6: A waterfall
If the party is suitably impressed the dryad may appear and gloat, if they are unmoved it will appear and attempt to enchant them so as to get constructive criticism (though they take this very poorly). They are laughably easy to flatter, and are happy to share what they know about the locality. Their ultimate goal is to ensnare a suitably appreciative paramour to appreciate the loveliness of their grove. The bones of great heroes entranced by the dryad may fertilize her flower garden, and they are known to give artifacts of power to those that earn them as they have little use for magic swords and staves.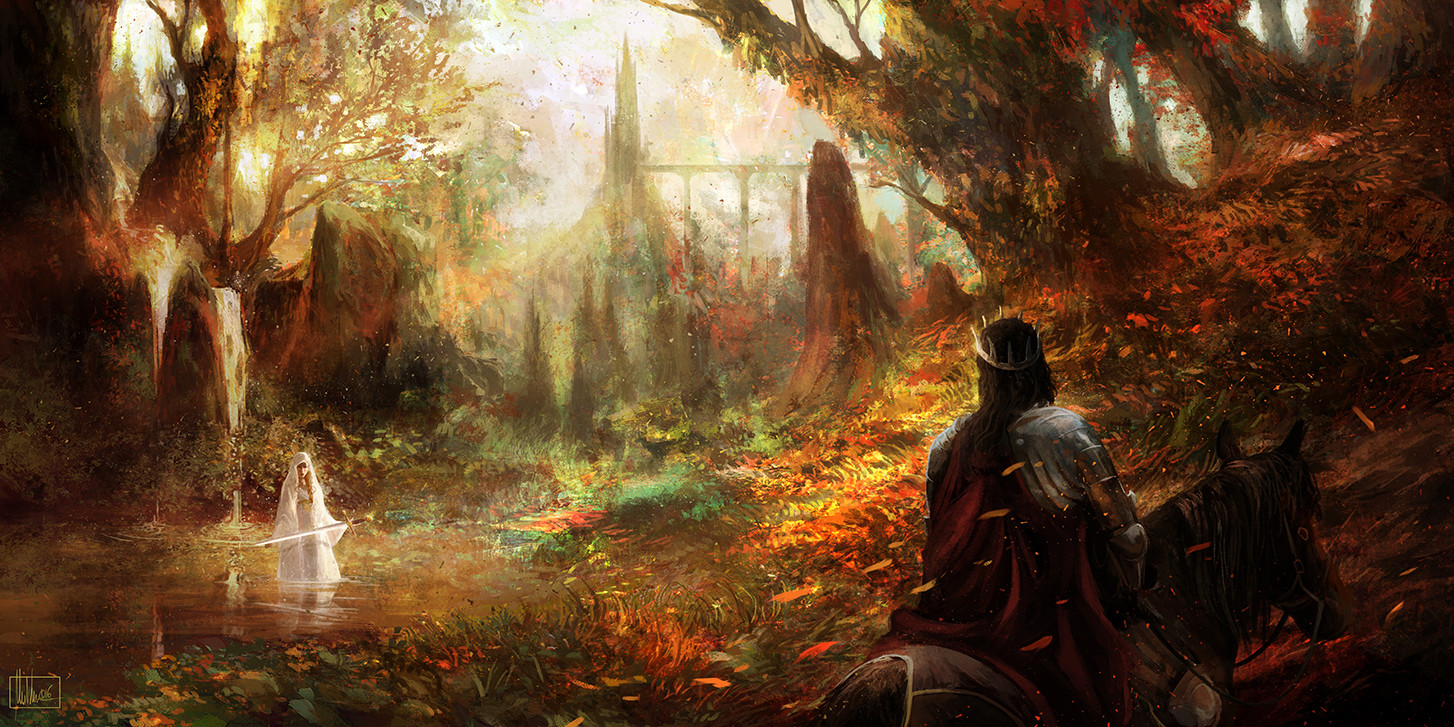 If you are lucky the dryad might have exactly what you need! Just make sure to compliment her pond.
Source
If any part of their grove is threatened the dryad will call on it's animal allies to divert the threat. When truly incensed they become elemental avatars of rage, as they are effectively demi-gods of their grove, having absolute control of the limited geography.
If a dryad is killed or forcibly removed from their grove they will lay a curse upon their foe: to slowly turn to wood, (mechanically 1 Cha save per month or 1d4 Cha damage) but if they survive the curse for a year and a day the blight stops spreading. Their grove dies with them, any beauty is scorched and mutilated and it becomes an weeping sore of the homely upon the land.
The heart of a dryad is exceptionally valuable, wizards use them for spells and potions that affect perception of beauty. A fresh heart will sell for 5,000 gp, a dried heart will sell for 1,000 gp.